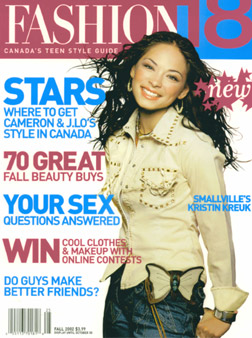 "Edgemont is just an awesome show, I can't get enough of it!"


"It's Canadian and different."


"The show is awesome. Edgemont is where it's at."


"I love the show, I think it hold[s] true value [for] its viewers. NOT a waste of half an hour, but an experience that affects their lives."


"I'm a huge fan of the television series. The show seems to portray a realistic high school lifestyle. Unlike some other high school based TV shows, Edgemont bases it's storylines on events that would likely occur in the life of a teen. From popularity, sex and sexual views and preferences to dating and breaking up, Edgemont delivers a show that is intriguing and real."


"Edgemont is an awesome show! It's very realistic and never boring; every episode has lots of entertainment value. The actors do an amazing job of portraying the 'teen' life, since they themselves are not distant from it."


"I love Edgemont! I think that it is one of the best shows on television. It shows teens in a realistic light and features issues that just about everyone can relate to."


"I think the show is amazing. It is very close to life compared to some of the other teen dramas that are around."