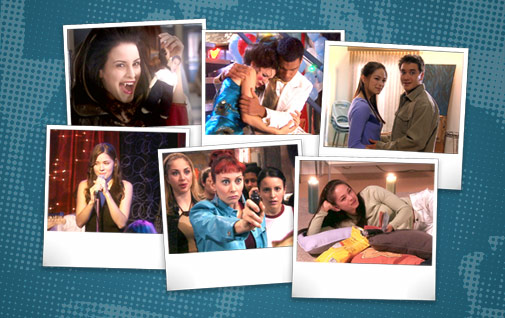 Edgemont, the award-winning teen drama, has been entertaining, informing and affecting audiences of all ages since 2000. Now, with five seasons broadcast ready and a strong following in over a dozen countries, Edgemont is well on the way to being "That" show - the one that defines a whole generation of Canadian teenagers. But not just Canadian teens - fan mail and audience numbers confirm that Edgemont intrigues and draws in people from around the world who tell us that "it's just like it is/was" in their high school.
The world of Edgemont revolves around relationships - dating, family, friendship, power games and trust. It's high school in all its glory - or gruesome details, depending on the kind of day you're having. It's a time of innocence and harsh lessons learned. It's a world full of decisions and dilemmas: an unplanned pregnancy, the school bully, a trip out of the closet, school as a single mom. But it's also a world of fun, freedom, gossip, parties and junk food - lots of junk food.
Over the years we see the students of McKinley High deal with life from the ages of 15 to 18. Having a long-lived series like Edgemont allows executive producer/series creator Ian Weir the chance to nurture younger characters within the show while giving the core group ever more complex situations to deal with.
Says Weir:
"Edgemont has grown and matured along with its actors. We have an absolutely dynamite young ensemble cast and we're exploring storylines that reflect the increasing maturity and complexity of the characters themselves. The result is a show that is nuanced and dynamic."
Bringing Canadian Stars To The World
Edgemont boasts world-class talent - on screen and behind the scenes. Exceptional writers, an incredible cast of talented young Canadian actors, and top-notch directors have given Edgemont its edge and a loyal following at home and abroad.
Edgemont's cast of young Canadian talent is truly impressive and includes one of Canada's hottest young stars, Kristin Kreuk, who, after her first season on Edgemont, was cast in the title role of the ABC/Hallmark TV Movie Snow White. Afterwards she landed a lead role in the Warner Bros. television series Smallville. She is currently one of the new faces in the Neutrogena campaign.
Other Edgemont stars are also on the move: see a full cast list here.